Doctors
Yuko Eguchi-Coe

DVM, CVA, CCRT, CVMMP, CVCH, CVFT, CVTP, CTPEP, Practice Owner
Dr. Yuko Eguchi-Coe has specific focus on Integrative Medicine, which includes laser therapy, acupunture, medical manipulation, physical rehabilitation, and Chinese Medicine.
Dr. Yuko grew up in the Tokyo, Japan area. She came to Jacksonville, Florida as a high school exchange student and elected to stay in the United States to attend Oregon State University. She assumed ownership of West Hills Animal Hospital in September of 2015 after practicing in the Portland/Salem area.

Dr. Yuko earned her Bachelor of Science, Masters of Science and Doctor of Veterinary Medicine degrees at Oregon State University. She has worked and trained with numerous board certified specialists including surgeons, dentists, oncologists and anesthesiologists. She has her certification in Radioisotope 131 therapy to treat hyperthyroidism and set up the treatment unit at VCA Raleigh Hills in Portland. She is also trained in endoscopy and surgical laparoscopy.

Her leisure hours are spent tending to the family farm, canning, reading, quilting and crocheting.

Yuko, and her husband, Matt, have 2 children Madeline and Sierra. The girls attend classes at Adams and Linus Pauling here in Corvallis. They also have furry children including 8 dogs (sizes range from 5 lb mini pinscher to 90 lb Greater Swiss Mountain Dog), 5 cats (including an oriental Siamese along with various domestic breeds), backyard chickens and ducks, and a few cows.
Her certifications are as follows:
Certified Veterinary Acupuncturist, Certified Canine Rehabilitation Therapist, Certified Veterinary Medical Manipulation Practitioner, Certified Veterinary Chinese Herbalist, Certified Veterinary Tui-na Practitioner, Certified TCVM (Traditional Chinese Veterinary Medicine) Palliative and End-of-life Practitioner.
Candace Remcho

DVM
Dr. Candace Remcho sees cats and dogs, and her practice interests include internal medicine, chronic disease management and hospice, as well as wellness and cooperative care for all ages.
Dr. Remcho grew up in southern Maryland and attended Virginia Tech for undergraduate studies before completing her Doctorate of Veterinary Medicine at the Virginia Maryland Regional College of Veterinary Medicine. She practiced in Utah, Washington and West Virginia before moving to Corvallis and joining West Hills Animal Hospital in 1998. With support of the staff, she contributed to the hospital's AAHA and Cat Friendly Gold status certification. Additionally she is a Fear Free Elite, Low Stress Handling and Cat Friendly certified veterinarian.
Dr. Remcho teaches as a guest instructor at the Carlson College of Veterinary Medicine at Oregon State University, sharing insights on the topics of communication and preventive medicine in private practice. She also serves as an OVMA member on the college's admissions committee.
Candace is married and has three children, Parks, Nate and Olivia. She loves all that Oregon has to offer like hot yoga, hiking, flying, the Portland Timbers and specialty coffee shops. Until recently, she shared her home with Eddy, a Border Collie rescue and Jack, an off the track thoroughbred turned eventer.
Julianne Vickstrom

DVM
Dr. Julianne Vickstrom sees special species which include but are not limited to birds, small mammals (rabbits, guinea pigs, rats, hamsters, etc.), and reptiles.
Dr. Vickstrom has been a part of our team since 2005, and graduated from Oregon State University College of Veterinary Medicine right here in Corvallis, OR. Dr. Vickstrom is an avid runner, and also enjoys camping and sailing in the summer months.
Alis Fogarty

DVM
Dr. Alis Fogarty sees cats and dogs, and is studying chinese acupuncture as a treatment modality to add to her care.
Dr. Fogarty was born and raised in San Diego, CA., and moved here to Oregon with her husband and children in 2004. She attended veterinary school at Oregon State University and has since practiced in the Salem/Albany areas. Dr. Fogarty has been a part of our team since 2018, and is very excited to be working in her home town!
Alis lives in Corvallis with her husband and three children and a plethora of pets, including a little terrier (Emmett), three kitties, a mini Rex bunny, two rats, two parrots and an aquarium. She enjoys birding, knitting, reading and relaxing with her family.
Jessica Cole

DVM
Dr. Jessica Cole sees cats and dogs, and has a special interest in geriatric care and an affinity for senior pets.
Dr. Cole is originally from the Bay Area, California and grew up in Southern Oregon. She completed her undergraduate degrees at Oregon State University prior to graduating from Oregon State's Carlson College of Veterinary Medicine in 2017. Following graduation she moved to Washington where she worked at a small animal veterinary clinic. In 2021, Dr. Cole returned to the Willamette Valley and is thrilled to be a part of West Hills Animal Hospital. She loves the family feel of West Hills, the caring staff and the high quality collaborative medicine that is practiced. Dr. Cole is fascinated by the human animal bond and strives to form lasting relationships with pets and their people. Additionally, she is a fear free and cat friendly certified veterinarian.
Dr. Cole is a faithful Beaver fan and lives in Corvallis with her husband, Aaron and their three children - Lillian, Eloise and Jett. She also has two goofy pit bull mixes and two perfect orange tabby cats. In her free time she likes to garden, and be outside with her family (two and four legged) enjoying all the beauty the Willamette Valley has to offer.
Dr. Michelle Kutzler

DVM, PhD, DACT
Dr. Michelle Kutzler works with canine reproductive services and sterilizing producedures such as the Ovary Sparing Spay (OSS) and Vasectomy. She is available in the clinic for in-person consults and procedures as well as phone consults.
Dr. Kutzler is from Kent, Washington. She received a Bachelors of Veterinary Science and DVM from Washington State University, and completed a residency program at Cornell University and became board-certified in veterinary reproduction (Theriogenology). She also completed a PhD at Cornell University on the affects of prenatal steroids on placental blood flow. In addition to seeing Theriogenology cases at WHAH, Dr. Kutzler is a Professor of Theriogenology at Oregon State University, where she teaches classes as does research on animal reproduction.
"What I love about WHAH is our goal to work with clients to provide the best care for their pets, which may include alternative medicines, procedures, and surgeries not offered by other veterinarians." To this end, Dr. Kutzler is a strong advocate for gonad sparing sterilization surgeries for dogs to prevent the long-term adverse health effects of traditional spaying and neutering.

Dr. Kutzler is married with three grown children (Courtney, Colleen, Connor) and excited about the prospect of grandchildren in the near future. Dr. Kutzler is an avid dog performance enthusiast and an American Kennel Club (AKC) judge for farm dog, earth dog, hound field trials, and canine good citizen certification. In addition, Dr. Kutzler is an AKC Breeder of Merit with her champion miniature Dachshunds.
Team Members
Trina Scharlau-Neuwirth

Practice Manager, Certified Veterinary Technician, CCRT
Trina has been part of our team since 1998
Where were you born? Paducah, Kentucky
If you could be any animal, what would you be and why? A pampered pet feline because they (for the most part) don't have a care in the world and get to enjoy life, relax, and hang out with the people that mean the most to them without worry or stress.
Who inspires you? People in general inspire me. We are complicated, compassionate, innovative, terrible at times (which inspires as well to do differently), funny, and loving creatures that never cease to amaze me for both good and bad reasons.
Lauren Santamaria

Certified Veterinary Technician
Lauren has been part of our team since 2014
Lauren is originally from Turner, OR and has an Associates in Veterinary Technology from Yakima Valley Community College. Lauren relays that the standards of care that WHAH upholds makes it easy for her to stand behind a hospital that shares the same values as she does. "Working at WHAH is like working with my family". She loves how well our team gets along and how we all work together. Lauren and her husband Alex have 2 cats, Harold and Lars, and 3 guinea pigs at home - Chewbacca, Han Solo, and Lando. Lauren enjoys swimming, yoga, and camping in her free time.
Lauren is pictured with one of our celebrity clients, Zen!
Courtney Williams

Certified Veterinary Technician
Courtney W. has been part of our team since 2014
Courtney W. is originally from the Central Valley in CA but has spend her adult life in beautiful OR. She has her B.S. in Biology and minored in Chemistry. Courtney W. earned her CVT in 2012 and is in pursuit of getting her specialty in felines. She has worked at Heartland Humane Society since 2006 and has run the HVHQSN clinic for the past 12 years. Courtney W. is Fear Free Certified for both veterinary clinics and shelters. Her skills and love for helping others and their animals has given her the opportunity to work with Animal Balance, an orginization that provides medical care to animals around the world.
Courtney W. relays that she loves the team and talent and knowledge base of the doctors at West Hills. She also loves the variety of animals we see and says it is a "super bonus" to see recently adopted animals come through for their wellness exams. She appreciates all the options in care we are able to provide owners at all the various stages of their pets life. Courtney W. has a multi-cat household, a pair of lizards and a pair of turtles and has recently taken much curiosity to the free range spiders in her house. In her free time she likes to foster kittens, go to concerts, do needle point and watch baseball - preferably a live game Go Cubs Go! Halloween is her favorite holiday... She starts decorating for it in August!
Courtney Cenkner

Certified Veterinary Technician
Courtney C. has been part of our team since 2016
Courtney C. is originally from Pennysylvania, but lived in Florida while completing her undergrad in Marine Biology with a minor in Marine Ecology. She completed tech school while in PA before coming to Oregon. Courtney C. likes to read and do anything outdoors, and has a dog named Winston who is always down for an adventure. She also has an "adopted" sea turtle named Nelson who she helped rehabilitate and release back into the ocean.
Laurie Flood

Licensed Veterinary Technician
Laurie has been part of our team since 2008
Laurie grew up in So. Cal where she completed her college degree along with a veterinary technician program. Laurie has been working in the veterinary field for over 40 years and still enjoys the opportunity to provide compassionate care to many beloved family pets. Her husband and 2 adult children are her biggest supporters and cheerleaders. Laurie's family relocated to Oregon in 1999 to enjoy a slower pace in life. Laurie says she has too many pets to list but currently has a cat household plus 1 fish!
Aside from work and family Laurie enjoys cooking, gardening, travel and genealogy. She has also been an artist for 35 years and is currently volunteering her time painting at The Historic Albany Carousel.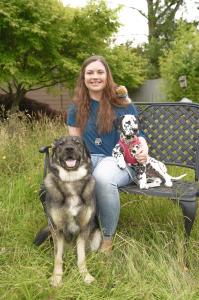 Danielle Kimes

Veterinary Assistant
Danielle has been part of our team since 2018
Danielle grew up in Troutdale, OR with 3 large snow dogs. She moved to Corvallis her freshman year of college to attend OSU, and graduated from there with a B.A. in Zoology in 2017. During her time at OSU, she volunteered at Chintimini Wildlife Rehabilitation Center, where she also completed an internship for school. Danielle started working at West Hills and received her Fear Free Certification shortly after. Danielle plans to attend online veterinary technician school to further her education. She loves to explore local hiking trails with her German Shepherd/Husky mix named Grayson, and also has a cat named Bebe and a bearded dragon named Drogon at home.
Terra Sadowsky

Veterinary Assistant
Terra has been part of our team since 2018.
Terra was born and raised in Albany, OR, and has lived in Corvallis, Eugene, and San Rafael, CA. She completed the Veterinary Assistant program at LBCC in 2018, and completed her 30 day internship at West Hills. She loved it so much and got hired directly after! She is Fear Free Certified as it is an important and much needed aspect of being a part of WHAH. Terra really enjoys that we see exotic animals as well as cats and dogs. She has a French Bulldog named Scout, a cat named Simon, and a newly adopted Havanese/Yorkie mix named Zoey. In her free time, Terra enjoys walking, hiking, kayaking, camping and spending time with her beloved pets.
Jordan Dolezal

Veterinary Assistant
Jordan has been part of our team since 2019
Jordan was born in Las Vegas, NV but has spent most her life in Klamath Falls, OR until moving to Corvallis, OR to attend Oregon State University with an interest in Zoology. She has a Radiology Certificate and is Fear Free Certified, and loves learning new things to increase her knowledge. Jordan has two German Shepherd Dogs, Asher and Aero, and likes taking them on adventures to explore the outdoors.
Shelby Ruhl

Veterinary Assistant - Exotics
Shelby has been part of our team since 2019.
Shelby grew up in Klamath Falls, OR but was born in Juneau, AK. She loves being outdoors, espeically if it involves hiking. Shelby went to school at Oregon State University and has a B.S. in Zoology. Through WHAH she has a Fear Free Certification that has helped her with handling patients and being able to make a difference in their care. Shelby works primarily with Dr. Vickstrom, our special species doctor. She loves small exotic animals and gre up having various reptiles, amphibians, and small mammals. Shelby currently has a small spunky Boston Terrier mix who loves doing everything with her and never seems to runs out of energy, and recently added a labradoodle named Alsea to their family.
Kayla Cavender

Vet Assistant/Patient Care Coordinator
Kayla has been part of our team since 2020
Kayla has lived in Oregon all her life, and has enjoyed having animals for as long as she can remember. Before coming to West Hills she was a manager at Joyful Noise dog boarding, and learned a lot about dog body language and behavior. Kayla has enjoyed becoming Fear Free Certified, and works hard at making sure animals are comfortable for any treatments needed while at the hospital. Kayla is an adaptible team member and helps us with both answering phones as well as taking appointments and covering the front desk when needed. She has a few pets of her own, including a large dog named Koa, a small dog named Sadie, and a senior cat named Sweetie Kitty.
Nicole Lindahl

Patient Care Coordinator
Nicole has been part of our team since 2021
Nicole came to us from Bozeman, Montana after spending nearly a decade managing local canine boarding/daycare facilities. She was most excited about the immense learning opportunity that was presented by transitioning to a veterinary environment, and is always eager to learn more about the different species we see and services we offer here at WHAH. Prior to the move from Montana, Nicole was quite the collector of reptiles and boasted a menagerie consisting of one bearded dragon, one northern blue tongue skink, an African fat-tailed gecko, two leopard geckos, two crested geckos, a Chinese cave gecko, and a ball python. Not all were able to make the big move safely, and she now has lots of extra time to spend with her two cats Mia & Milo, and her lone (for now...) ball python Snakey.
Additional Contributors
Courtney Marchesi

Certified Veterinary Technician
Courtney M. has been part of our team since 2001
Courtney M. works as a fill-in for our veterinary technicians when they take leave/vacation time, and is a wonderful asset and welcome face when she is scheduled to come in.
Courtney M. decided to take a step back from veterinary medicine and focus more on her wonderful art as a full time occupation rather than part-time, which can be seen all over our hospital as well as all over Corvallis. You may see her in local galleries and shows as well. You can find her at www.courtneymarchesi.com or on Instagram @courtneymarchesiart.
Sue Faria

Patient Care Coordinator
Sue has been part of our team since 2008
Sue is currently retired, but sometimes steps in to help cover for some of our other team members as the occasion arises. She is a long-time favorite of our clients, and we appreciate everything she has done and continues to do for us.
Emily Jolliff

Social Media Manager
Emily has been part of our team since 2018
Emily was a Veterinary Assistant and Certified Dog Trainer on staff for 3 years before moving out of the area. She now works remotely from La Pine, managing WHAH's social media accounts and keeping the website up to date.
Emily is an Oregon native with an Associates degree in Business and Companion Dog Studies from Bergin University. She has a passion for training dogs and specializes in techniques to help them understand, accept, and even get excited to participate in veterinary procedures. Her Fear free Certification and continuing education has helped her implement and achieve ways of managing and preventing unneeded stress from animals in the veterinary world, and she continues to strive to make every experience for them a good one.

In her free time, Emily also enjoys playing soccer, riding four-wheelers on the sand dunes, camping of any kind, riding horses, and exploring Oregon with her dogs and friends.