Learn About Us—West Hills Animal Hospital
The Art of Progressive Veterinary Care—The Heart of Compassion
We strive to provide exceptional service and are committed to providing high-quality and compassionate care to our patients. Our team members are all passionate about our profession and regularly attend continuing education meetings to keep up with the latest advances in veterinary medicine.
Our Mission
We will deliver compassionate, high-quality, progressive veterinary care to our patients and clients. With this focus, we celebrate and nurture the human-animal bond in our community and ourselves. We are an enthusiastic, cohesive team and know that it is through respect, integrity, and exceptional care that we earn the trust of our patients and clients.
---
Our Animal Hospital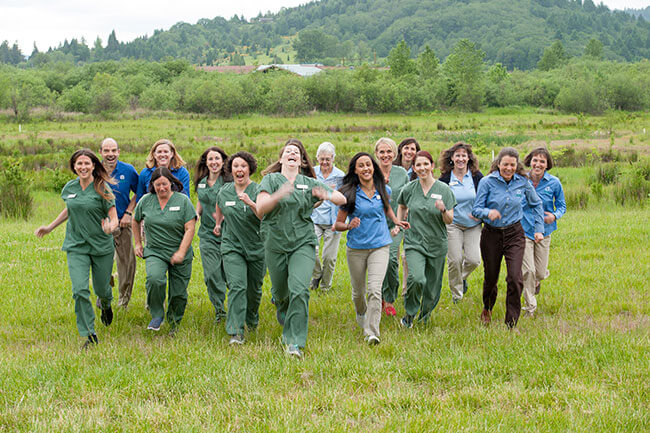 Pet Medical Records—Paperless pet medical records accessible through all computers in our network.
Convenience—Request an appointment online.
Client Centered—We provide a homelike and comfortable feel to our reception area with rugs, fireplace, refreshments, and open concept. A Patient Care Coordinator is in our reception area to focus on clients walking through the door, with a separate phone Patient Care Coordinator in the back of hospital.
Transparent—Multiple windows throughout the hospital allow clients to observe procedures such as surgery, ultrasound, ECG, blood pressure measurements, and more.
Your pet's health, safety, and comfort are important to us. Your pet is at the heart of our practice, and we have designed an atmosphere of peaceful health and healing, including:
Welcoming—Glass doors in reception area to allow pets to see where they are going, helping to decrease anxiety and stress.
Stress Free—Multiple consultation and exam rooms help reduce stress in the reception area, staff trained in gentle handling methods, music specially composed and proven to be stress reducing for our patients.
Fear Free—Ventilation systems are present in various areas in the hospital to decrease your pet's anxiety from smelling other animals. We also use pheromone therapy to help calm animals during their visit.
Patient Focused—Dog relief station with plastic bags and garbage is available. We have feline friendly processes, catering to the unique needs of cats.
---
Progressive Veterinary Care
Our dedicated veterinary team is committed to providing the highest quality veterinary care possible for your pet. Our animal hospital is accredited by the American Animal Hospital Association (AAHA). This voluntary accreditation ensures the gold standard in veterinary medicine is incorporated into all aspects of your pet's care. Additionally, our experienced veterinarians are members of key pet health organizations, including: