Avian and Exotic Pet Veterinary Care—Unique Care for Your Unique Pet
West Hills Animal Hospital offers full-service avian and exotic pet veterinary care such as preventive care exams, diagnostics, and treatment. The health care of small mammals, birds, and reptiles, requires unique knowledge and training. Our special species veterinarians have extensive experience working with exotic pets and regularly attend continuing educational sessions regarding special species medicine.
Exotic Pet Veterinary Preventive Care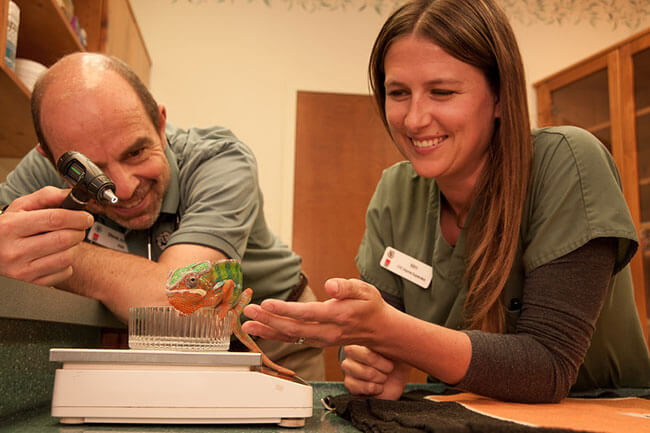 Special species pets have perfected the art of hiding their injuries and illnesses, as it is an important survival skill to avoid being targeted by their predators. We recommend annual exams as an important health care component for these unique pets to maintain a long and healthy life. Based on your pet's preventive care exam, we will create a customized health care plan for your pet to maximize their health.
Your exotic pet's preventive care appointment will include:
A physical exam
Diagnostic testing to check for early signs of disease and illness (dependent upon species)
Nutritional consultation
Dedicated time to address behavior concerns, and discuss new advancements in special species medicine
Exotic Pet Veterinary Services
Our veterinary team has the experience and state of the art technology to provide comprehensive veterinary care for your exotic pet. We enjoy sharing our knowledge of exotic pet care, and we offer a variety of services such as:
Preventive care exams and vaccinations, if indicated
Laboratory testing—Urinalysis, fecal analysis, blood screening, and infectious disease testing
Diagnostic imaging—Radiology and ultrasonography
Surgical procedures—Dentistry, and corrective surgeries
Husbandry care—Nail trims, wing trims, tooth trims, and beak trims
---
Small Mammal Veterinary Care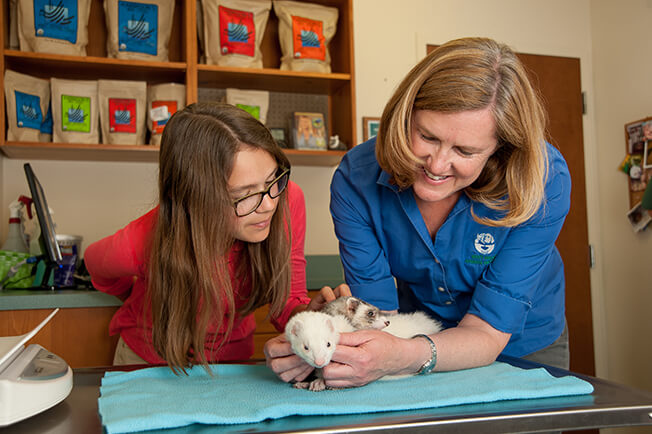 West Hills Animal Hospital offers veterinary care services for small mammals. These pets all have species specific dietary and husbandry requirements, and we recommend annual preventive care exams to keep your pocket pet healthy and happy. We have experience diagnosing and treating a wide variety of small mammals including:
Chinchillas
Ferrets
Guinea Pigs
Hamsters
Hedgehogs
Rabbits
Rats
Additional species specific health care information can be found in our education resource center. We understand the joy of adding small mammals to your family, and we are here to support you with all of their health care needs.
---
Avian Veterinary Care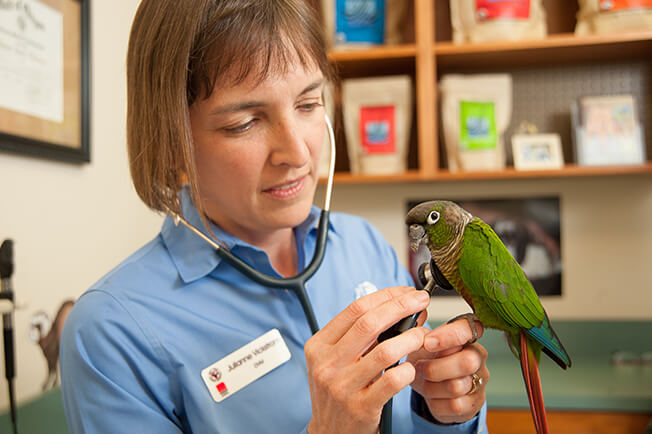 West Hills Animal Hospital offers avian veterinary care for a wide variety of bird species. We recommend regular preventive care visits to help ensure the overall health and longevity of companion birds. During your pet's preventive care visit, your bird will be given a complete exam. If necessary, we can also provide husbandry care, such as trimming of nails, beaks, and wings.
We have experience in bird behavior, and we welcome all of your questions. Many new bird owners underestimate the complexity and intelligence of their avian companion. With the proper education, dedication, and resources, birds can live a long and fulfilling life as companion pets. Examples of popular avian companion pets include:
Budgerigars
Canaries
Macaws
Cockatoos
Cockatiels
Conures
Caiques
Chickens
Ducks
Geese
Additional avian information such as environmental enrichment and socialization can be found in our educational resource center.
---
Reptile and Amphibian Veterinary Care
West Hills Animal Hospital provides comprehensive veterinary care for reptiles and amphibians. We recommend owners of these unique pets schedule a preventive care exam and consultation. Reptile and amphibian veterinary care is rapidly evolving, and our experienced veterinary team can assist you with your reptile and amphibian health care needs. Examples of reptile and amphibian patients seen at West Hills Animal Hospital include:
Turtles and Tortoises
Frogs
Iguanas
Chameleons
Bearded Dragons
Snakes
Tegus
Anoles
Chinese Water Dragons
Leopard Geckos
Reptile and amphibian species specific information is available in our educational resource center.