Our animal hospital is proud to provide advanced veterinary surgery for dogs, cats, and exotic pets. From elective procedures to advanced surgeries and orthopedic cases, our veterinarians have extensive experience spanning decades.
A few examples of procedures routinely performed in our hospital include:
Spay and Neuter
Oophorectomy (surgical removal of ovaries)
Growth removals
Abdominal exploratory surgeries
Oral Surgery
Veterinary Surgical Suite
Our state-of-the-art surgical suite incorporates the latest in diagnostic and surgical instrumentation, separate ventilation, and high-quality lighting to provide the best possible care for your pet. Our surgical suite offers open viewing for owners who wish to be near their pets during the procedure. We are pleased to partner with board-certified surgeons and anesthesiologists who perform specialty surgeries on our premises to meet the special needs of certain patients.
---
Laser Surgery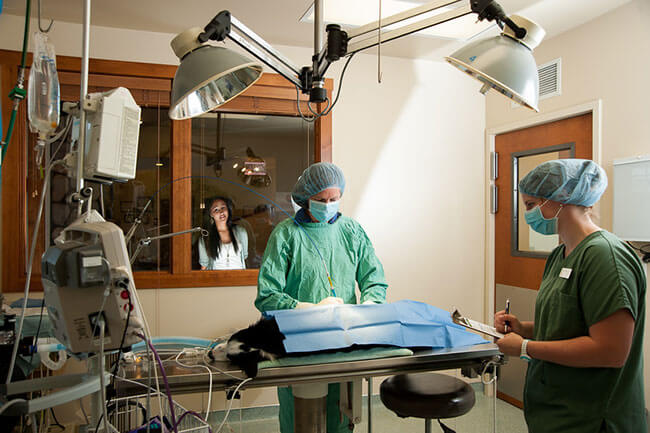 The majority of surgeries at West Hills Animal Hospital are performed with a surgical laser. Laser surgery is an advanced technology that provides many benefits including:
Less pain—The laser light seals nerve endings as it moves through the tissue resulting in improved post-surgical pain reduction.
Less swelling—Laser energy doesn't crush or tear tissue. Only light energy contacts the tissue and lymphatic vessels are sealed reducing post-operative swelling.
Less bleeding—The laser light seals small blood vessels during surgery allowing us to perform surgery in highly vascular areas with little or no bleeding.
---
Preparing for Veterinary Surgery
We understand how stressful veterinary surgery can be on both you and your pet. We are here to support both of you.
For your pet's safety, we conduct a blood test prior to administering anesthesia to ensure your pet is healthy enough for surgery. Pain medication may also be dispensed for at-home use based on the status of the patient and procedure performed.
Please keep the following information in mind as you prepare for your pet's surgical appointment:
Unless directed otherwise, please do not feed your pet after midnight the evening before surgery. Water should be provided as usual.
Please walk and relieve your dog before coming to the hospital so they will be as comfortable as possible.
Review your pet's surgery plan with the admitting team member and ask any questions you may have before leaving your pet.
Verify your contact phone number the day of the procedure.
---
Day of Veterinary Surgery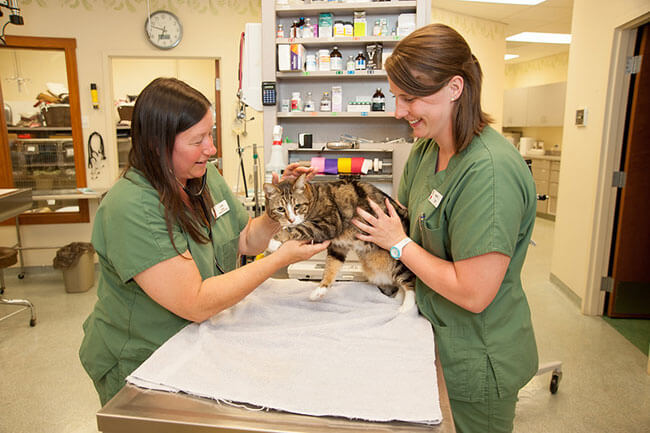 We strive to make your pet as calm and relaxed as possible. We are dedicated to recognizing, preventing, and controlling pain to keep our patients comfortable. Our experienced and compassionate veterinary team welcomes your questions, and you are welcome to view your pet's surgery from our advanced surgical suite.
Here's what you can expect when bringing your pet in for surgery:
Preoperative exam of your pet by their surgical team, including a veterinarian and certified veterinary technician
Pain management before, during, and after surgery
Age-appropriate blood work performed to evaluate anesthetic risk and create customized anesthesia plan.
Intravenous catheter placement and fluid therapy
Advanced monitoring of vital signs
---
After Veterinary Surgery
Your pet will be carefully monitored during the procedure and the recovery period. We will make every effort to provide an update about your pet when surgery is complete and they have recovered fully from anesthesia. If time permits, we can also e-mail you updates and send photos of your pet during the recovery period.
Additionally, we are here to support you and your pet including:
The type of procedure will dictate the after care needed for your pet's best recovery. Full post-operative instructions will be sent home detailing the care required.
When your pet is discharged from the hospital, please be certain we have answered any questions you have and that the instructions are clear.
On their first night home, be sure to offer small meals and small amounts of water frequently through the evening to reduce nausea.
Administer medications as instructed, and please don't hesitate to ask us if you need an administration demonstration.
---
Low Level Laser Therapy (LLLT)
Also known as cold laser, Class II laser medical device delivers coherent light at specific wavelengths to selected tissues within the body. Photosensitive receptors with the cell's mitochondria are stimulated resulting in increased adenosine triphosphate (ATP). The result is cell regeneration, increased blood flow and reduced inflammation. There are no side effects associated with LLLT. Applications include the treatment of pain and inflammation as well as support for chronic diseases.
---
Regenerative Medicine
This exciting group of therapies seeks to restore and repair damaged tissues within the body while using a patient's own healing properties. Beginning with bone marrow and organ transplant, the study of developmental biology, cell biology and immunology has helped grow this innovative field of medicine to include stem cells and cell components. Partnering with board certified veterinary specialists, we are able to provide patients with platelet rich plasma (PRP) therapy and autologous adipose-derived adult stem cells to meet specific needs. We have seen benefits in many patients in need of pain relief and tissue regeneration like with osteoarthritis and with ligament or tendon injury.